- Hojo Gel Spa Socks Pair for Skin Repair and Cracked Heel Moisturizing Treatment (B01N8ZNBQ5)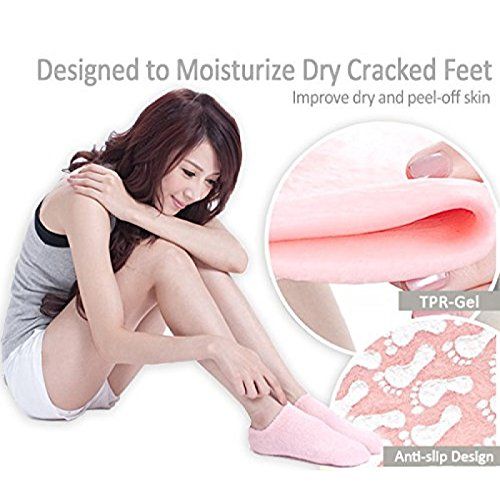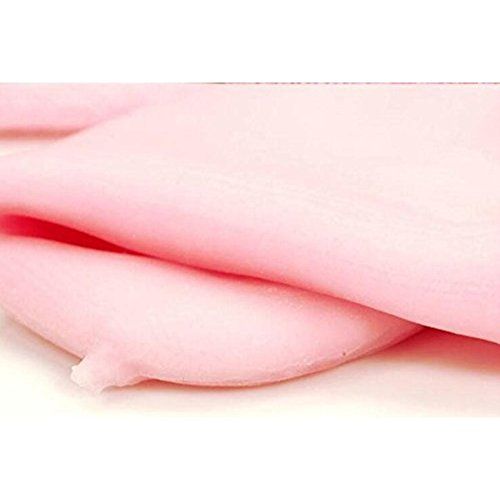 PRODUCT FEATURES
Material: 90%cotton, 10%spandex, rubber

Inner: thermoplastic rubber gel, jojoba oil, vitamin E, lavender oil

Two pcs moisturize skin repair cracked moisturizing treatment gel spa socks provide complete care for your cracked heel

The cracked heel socks contain an inner lining of thermoplastic rubber gel, vitamin e, olive oil, jojoba oil, and lavender essence, all of which work together to act as cracked heel cream to repair your cracked feet
PRODUCT DETAILS
2 pcs moisturize skin repair cracked moisturizing treatment gel spa socks provide complete care for your cracked heel.
These cracked heel treatment moisturizing socks are specially designed for cracked heel foot care through moisturizing and softening of your feet skin.
They are made from fine cotton along with rubber and spandex as outer materials.
The cracked heel socks contain an inner lining of thermoplastic rubber gel, vitamin e, olive oil, jojoba oil, and lavender essence, all of which work together to act as cracked heel cream to repair your cracked feet.
With the inner lining of gel and essential oils, these cracked heel treatment socks release natural oils that help to exfoliate, soften and nourish rough, hard, dry, and cracked skin.
Penetrating deep into the dry and hard skin, the it gives your feet a smooth and soft feel.
Akin to a cracked heel cream in function, this product protects your feet from becoming dry and rough, while replenishing water and other nutrition essences for feet skin.
By using this product for just 30 to 60 minutes a day, you can notice a visible difference in the way your cracked heels feel.
Long term use of the skin repair cracked heel treatment socks will delay aging of your feet skin and keep them looking soft and pretty.
Ideal for use by women of all age groups, the moisturizing treatment gel spa socks have good elasticity.
Just add your favorite skin care products into the gel socks after your spa to experience better results.
This reusable product requires no effort for using it and is easily washable. It gives your feet a complete makeover by removing dead, cracked and hard skin and turns them into soft and younger-looking feet.

Spa Gel Socks | Review

Hey peeps! Thank you so much for watching. For more information on the product you can check out my blog, clicking the link below OR you can visit: https://www.amazon.com/dp/B072KNMMB3 -EMAIL for Business Inquiries: deimarys30@gmail.com ::::I Got A Blog:::: - http://keepcalmandreview.com ::::Social Media:::: - FACEBOOK: Deimaryscm - INSTAGRAM: Deimaryscm - TWITTER: Deimaryscm ***Disclaimer*** I received this products free for testing purposes and review. No monetization was received in exchange of this review. My opinions are personal and based on my experience with the products or service mentioned here. I am disclosing this in accordance with the Federal Trade Commission guidelines concerning the use of endorsements and testimonials in advertising.
The price of the product includes GST.
The pictures for this product are for information purposes. Depending on your monitor, colors may differ from the real color.
The data submitted in the order form for this product are strictly confidential.
If you want further information please contact us by e-mail or phone.
All the promotions on this website are valid within our stock availability.
All products sold through our website come with a 30 day warranty against manufacturing defects.